Girandella Beat Beach vol.2 w/ DOC MARTIN (Sublevel, Los Angeles, USA) @ Girandella Beach, Rabac 20.07.2013.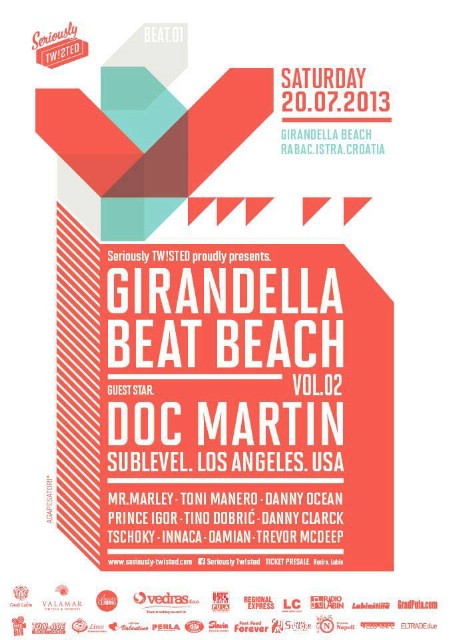 13.7.2013. // Labin.com // Objavljeno u kategoriji Glazba
Jedna od najatraktivnijih lokacija na ovom dijelu Jadrana bazen Girandella ponovo ugošćuje seriju odličnih evenata. Seriously Twisted nastavlja serijal Beat Beach na najbolji mogući način. Za prvi ovoljetni event s ponosom predstavlja svog glavnog gosta za kojeg, ne bez razloga, slovi uzrečica "Don of house music" – DOC MARTIN. Njegova sposobnost da svira sve, od deep-a, funky, trible, house, acid, techna, zbirkom rijetkih ploča koje se mogu čuti samo u njegovim nastupima čine ga toliko različitim od drugih DJ-eva. Doc Martin je razvio poštovanje kao house dj kojemu se mnogi od nas dive. To poštovanje ga drži na turneji od New Yorka do Londona, Japana i svugdje između. Uz top produkciju plaža Girandella pretvorit će se u neviđeni plesni podiji. Nakon samog party-a slijedi prava poslastica za sve one koji ne žele da im zabava prestane – BOAT AFTER PARTY!
Seriously TW!STED proudly presents mega event
• GIRANDELLA BEAT BEACH / beat.01 / 20.07.2013. / Rabac / Istra / CRO •

• MR. MARLEY /•/ TONI MANERO /•/ DANNY OCEAN /•/ PRINCE IGOR /•/ TINO DOBRIĆ /•/ DANNY CLARCK /•/ TSCHOKY /•/ INNACA /•/ DAMIAN /•/ TREVOR MCDEEP

☆ We kick off the pool party in true Seriously Twisted style! ☆



▬▬▬▬▬▬▬▬▬▬▬▬▬▬▬▬▬▬▬▬▬▬▬▬▬▬

▬▬▬▬▬▬

PROGRAM:

Friday night 19.07. official preparty @ Movie bar, Rabac

• 20.07. Meeting Point beach party - MUSIC AFTER DINNER SHOWCASE @ Tropic lounge bar - Rabac
Innaca / Damian / Trevor McDeep

• GBB MAIN NIGHT w/ DOC MARTIN
Mr.Marley / Toni Manero / Danny Ocean / Prince igor

• BOAT AFTERPARTY
start: 07 end: ?
Tino Dobrić / Danny Clarck / Tschoky
*number of ticket limited*
More info TBA



▬▬▬▬▬▬▬▬▬▬▬▬▬▬▬▬▬▬▬▬▬▬▬▬▬▬

▬▬▬▬▬▬

ULAZNICE:
ulaz u pretpodaji - glavna večer: 80 kn
pretprodaja glavna večer + boat party - 100 kn
Rotiro- Labin / Movie bar- Rabac
na ulazu - glavna večer: 100 kn
boat party uoči polaska - 50 kn


VIP & TABLE RESERVATION:
VIP COMBO SET - (800KN) VIP TABLE, 4 TICKETS, 1 BOTTLE(VODKA,JACK D.,BACARDI), 6 COCA-COLA or RED BULL

☎ *BOOKING & INFO*
GSM. 098 506 813
E-mail: info@seriously-twisted.com


press@seriously-twisted.co

m



▬▬▬▬▬▬▬▬▬▬▬▬▬▬▬▬▬▬▬▬▬▬▬▬▬▬

▬▬▬▬▬
Zahvaljujemo sponzorima:
Grad Labin, Valamar, Collegium, Vedras d.o.o., Movie bar, Ton-Ale, caffe bar Valentino, Restoran Lino, caffe bar Perla, Fianona, Pizzeria Napoli, restoran Slavia, fast food Forever, caffe bar Spider, Velo Cafe, Eltrade due
Medijski pokrovitelji:
HRT Radio Pula, Regional Express Labinstina.info, Istarski.hr, Labin.com, Radio Labin, GradPula.com
Girandella Beat Beach
Rabac
Doc Martin
Sublevel
Los Angeles
USA
Mr. Marley
line up
plaža
bazen
medijski pokrovitelji
ulaznice
karte
pretprodaja
vol.2
---