Halloween Monsters w/ Miguel Lobo @ KuC Lamparna, Labin 28.10.2016.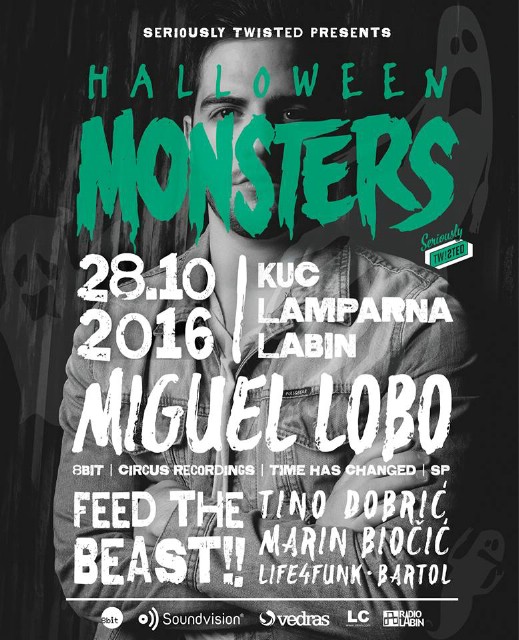 20.10.2016. // Labin.com // Objavljeno u kategoriji Glazba
Seriously Twisted presents
HALLOWEEN MONSTERS
Friday 28.10. @ KUC Lamparna - Labin
Seriously Twisted ekipa vraća se u Lamparnu nakon više od godine dana izbivanja i garantira najstrašniji horor!!!
Postoji opasnost po lokalnu zajednicu!!!
Dodatne upute za ponašanje objavljivat ćemo postepeno.
▬▬▬▬▬▬▬▬▬▬▬▬▬▬▬▬▬▬▬▬▬▬▬▬▬▬▬▬▬▬▬▬
MAIN MONSTER:
► M I G U E L L O B O (Madrid, ESP)
8bit, Cecile, Circus Recordings, Time Has Changed
Spanish young talent that with just 22 years has sign in many of the most important underground labels around Europe. Cécille , 8BIT , Defected , Time Has Changed , Moan , Brise , … just to name a few . He also get nominated in 2012 Dj Mag awards as best newcomer producer.
Lots of vinyls behind him , many tops on wellknown portals and in the point of many international labels and artists that are requesting his music we can say that this Spanish producer is a one must follow because he is growing very fast.
As Dj he has play all around Europe taking his music to big Cities like Berlin , Milan , Tunez , Barcelona , Madrid and many more . And playing in the best clubs of all the territories.
He has a depurate technic playing and an exquisite music taste always close to House music but in touching with all underground styles.
With his short age he has done a great work and his succes is visible to the entire electronic scene.
GUEST MONSTER:
▶ LIFE4FUNK
Altar Servers, Crkva
TW!STED MONSTERS:
▶ TINO DOBRIĆ
▶ MARIN BIOČIĆ
Introducing our new Twisted Monster:
▶ BARTOL
▬▬▬▬▬▬▬▬▬▬▬▬▬▬▬▬▬▬▬▬▬▬▬▬▬▬▬▬▬▬▬▬
Petak 28.10.2016
Kuc Lamparna / Labin ⚒
☎ *BOOKING & INFO*
info@seriously-twisted.com
+385 98 506813
➡ Powered by top world class soundsystem d&b audiotechnik
Support & partners:
Halloween Monsters
Seriously Twisted
Marin Biocic
Tino Dobric
KuC Lamparna
Labin
Istra
Croatia
party
Bartol
Miguel Lobo
rave
friday
petak
Vedras
HR
---